More scientific illustration
This image is from a poster explaining the 'discovery of the bacterium Helicobacter pylori and its role in gastritis and peptic ulcer disease', for which Australian scientists Barry Marshall and Robin Warren won the 2005 Nobel Prize in Physiology or Medicine. The poster was published in 2006 by the Australian Academy of Science.
See the Acrobat PDF samples page for full-size PDF.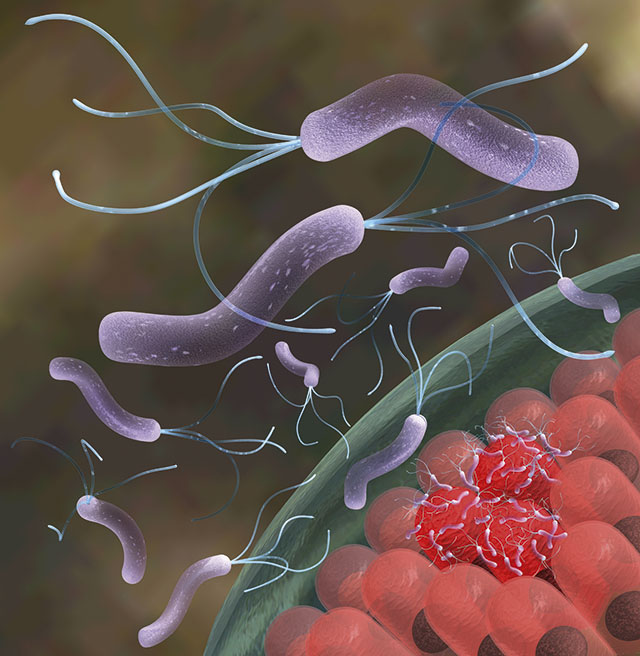 Helicobacter pylori is spiral-shaped when it is actively growing and invading the epithelial cells of the stomach and duodenum. The bacteria use their spiral shape and flagella to move through the mucus of the stomach, which protects the cells against the acid and enzymes that break down ingested food. Once attached to the cells, the bacteria cause damage by secreting enzymes and toxins, initiating a self-destructive immune response.
Technical notes
The modelling was done in Strata 3D CX. After quite a few test renderings for adjustments to the shapes, colours, lights, textures and transparency effects, the final ray-tracing of the main image (512 x 500 mm at 300 dpi, file size 46 Mb) took only about 35 minutes (imac G5 1.8 GHzwith 512 Mb of memory). Click here for a detail at full resolution.
---
All images and graphic elements in this site are protected by copyright
© 1996–2019 Paragraph®. All rights reserved.